Satoshi Mines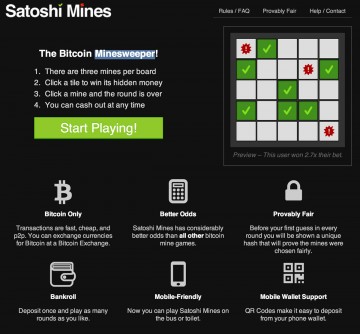 In Satoshi Mines, to earn bitcoins the main goal you must attain is the land safely and be careful of the landmines. The game has updated its features that include the bankroll. You are allowed to play unlimited for free by just making your initial deposit. Deposit transactions are now more convenient to make since QR is already available. What makes the other great is that you increase the possibility of winning with 13% just to land safely on the first tile. Likewise, you have the possibility of winning by 1800% on top of your bet.
As the name implies, this game involves mines is one of a kind and a very interesting game. This bitcoin game is so simple to play; you can easily understand what the rules say about. In every game, a board with three hidden mine tiles will be given to you. Unfortunately, if you discovered a mine tile, you lose the game, including the bitcoins that you earned. You need to achieve three confirmations for your deposits before you can actually cash out.
This game only accepts one currency for payment and this currency is bitcoins making the transactions a lot quicker and more convenient. You can learn about the legalities regarding bitcoin use. Likewise, the only language being used by this bitcoin site is English. It is easy to go on the website. The first step is to make a deposit of bitcoins to your wallet address. Refresh and start to bet. The minimum limit for betting is.0005BTC and the maximum limit for betting is 0.2 BTC. You can already start playing. You need to land to a safe tile; landmines should always be avoided. If you are not yet familiar with using bitcoins to bet in a game, you can search for Bitcoin gambling on the internet to have a better understanding of how it works and hot use bitcoins to bet on a bitcoin game.
What is so nice to know about the game is that you have the privilege of [laying the age of this privilege, you can learn, understand and master Satoshi's Mines before you use your treasured bitcoins. The game is full of excitement it is so fun to play. And to top it all, you have the chance to win great amounts of money making it very hard to fight the temptation.
The gambling site that uses bitcoins for betting features great graphics. Black and green combination contributed to the character to the site. In addition, understanding the platform is so easy because of its simplicity. Always hope to land on a green tile and avoid the red tile or the game is over.
Satoshi Mines are a truly amazing bitcoin gambling site. Though it may offer just one game, the game itself already offers a lot of excitement and fun as you uncover each tile. You keep earning you have a safe landing.